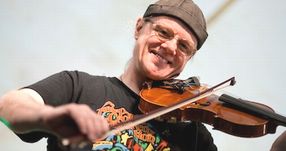 violin
 1952年12月8日生まれ。バーミンガムのウォリックシャー出身。フォーク・ロックからジャズ・ロックまで幅広く活躍したヴァイオリン奏者。80年代中期からはFairport Conventionの不動のリード奏者として活躍した。
 1970年頃からDave BristowやMicky Barkerらとジャズ・ロック・バンドThe Echoesなどを組んで地元バーミンガムで本格的な音楽活動をスタート。1972年には日本人前衛パーカッション奏者Stomu Yamash'ta率いるRed Buddha Theatreの欧州ツアー参加してプロとしてのキャリアをスタートさせる。
 1970年代半ばには再びBristow、Barkerらとのインプロビゼーション・グループSurrounding Silenceで活動。76年にはMichael Garrickとのギグを経験し、同年には同グループで顔を合わせた名ドラマーJohn Marshallが在籍していたSoft Machineに加入。ライブ作品「Alive & Well-Recorded In Paris」で大きく注目される。
 1970年代後半にはAshley Hutchings率いるプログレッシヴ・トラッド・バンドThe Albion Bandに加わり、名作「Rise Up Like The Sun」のレコーディングに参加するなど活動の幅を広げる。70年代末にはSoft Machineで一緒になったギタリストJohn Etheridgeや旧友Bristow、Barkerらとジャズ・ロック・バンド2nd Visionを結成しアルバムを残す。
 1985年には本格的にバンド活動を再開したFairport Conventionの久々のスタジオ・アルバム「Glady's Leap」にゲスト参加。本作リリース後のツアーから正式メンバーに昇格し、以降伸びやかかつテクニカルな音色で不動のリード奏者として活躍を続けた。
 ソロ・アルバムとしてはFairport加入直前の84年リリースの「Whenever」、91年の「Neither Time Nor Distance」などがある。コラボレートとしてはGordon Giltrapや
 セッション活動も多彩で、身内のFairport周辺ミュージシャンをはじめ、コラボレート作品も残したGordon GiltrapやAndrew Cronshaw、Martin Simpsonなどと多く共演。世界的な大ヒットとなったAll About Eveのデビュー作でもヴァイオリンを披露している。
 2000年代には自身のリーダーグループRic Sanders Groupを率いてギグ、アルバム制作を行っている。

【参加グループ】
<group>
・Soft Machine
Alive & Well-Recorded In Paris (Harvest SHSP4083) 1978
・The Albion Band
Rise Up Like The Sun (Harvest SHSP4092) 1978/3
Songs From The Shows (Albion ALB003) 1990/5 ※77年
Live At The Cambridge Folk Festival (BBC/Strange Fruit CAFECD002) 1998/9
・2nd Vision
First Steps (Chrysalis CHR1289) 1980
・Rick Sanders/Pete York/Steve Richardson
String Time (Jeton 100.3331) 1983 ※Germany
・English Air
English Air (Paradise PAR001) 1983
The Space Inbetween (Wye DCLP1) 1985
・Fairport Convention
Glady's Leap (Woodworm WR007) 1985/8
Expletive Delighted ! (Woodworm WR009) 1986/8
In Real Time Live 87 (Island ILPS9883) 1987/12 ※87年8月ライブ
Red & Gold (New Routes RUE002) 1988/12
The Five Seasons (New Routes RUE CD005) 1990/12
25th Anniversary Concert (Woodworm WRDCD022) 1993/5 ※92年8月ライブ
Jewel In The Crown (Woodworm WRCD023) 1995/1
Old New Borrowed Blue (Woodworm WRCD024) 1996/3
Who Knows Where The Time Goes ? (Woodworm WRCD025) 1997/6
The Croppredy Box (Woodworm WR025) 1998/5 ※97年8月クロップレディ
Cropredy '98 (Woodworm WRCD031) 1999/5 ※98年8月クロップレディ
The Wood And The Wine (Woodworm WRCD033) 1999/11
XXXV (Woodworm WRCD038) 2002/1
Festival Cropredy 2002 (Woodworm WR2CD 039 ) 2002/12 ※02年8月
Scrum-Half Bricking (Front Row BRUFC01) 2003 ※Fairport with Swarb
Over The Next Hill (Matty Grooves MGCD41) 2004/6
Journeyman's Grace (Recall SMDCD572) 2005/8 ※03年2月カンタベリーライブ
Off The Desk (Matty Grooves MG2CD043) 2006 ※04~05年ライブ
Sense Of Occasion (Matty Grooves MGCD044) 2007/2
Fame And Glory (Matty Grooves MGCD49) 2009/4
Festtival Bell (Matty Grooves MGCD50) 2011/1
By Popular Request (Matty Grooves MGCD51) 2012/1
"Babbacombe" Lee Live Again (Matty Grooves MGCD052) 2012
Myths And Heroes (Matty Grooves MGCD053) 2015/1
・Gordon Giltrap & Ric Sanders
One To One (Nico Polo NP002) 1989
・Ric Sanders Group
In Lincoln Cathedral (Heliopause HPVP101CD) 2002
Parable: Music For The Anjali Dance Company (Heliopause HPVP102CD) 2003/10
<solo albums>
Whenever (Waterfront WF021) 1984
Neither Time Nor Distance (Woodworm WRCD017) 1991
Still Waters (Talking Elephant TECD129) 2008
<solo single>
・The Children Of The Frank Wise School With Dave Pegg & Ric Sanders
We Wish You All A Merry Christmas/Quick Dip In The Pool (Not On Label) 1990
<session>
Wade In The Flood/Andrew Cronshaw (Transatlantic LTRA508) 1978
The Peacock Party/Gordon Giltrap (PVK GIL1) 1979
The Englishman/Mick Stevens (Spaceward Studios SRS30) 1979
Special Agent/Martin Simpson (Waterfront WF008) 1981
I'm Alright/Loudon Wainwright Ⅲ (Rounder CD3096) 1985
Phenomena-soundtrack (Bronze PM1) 1985
London Moon And Barnyard Remedies/Mark Germino (RCA PL85852) 1986
Crest Of A Knave/Jethro Tull (Chrysalis CDL1590) 1987/9
Till The Beasts' Returning/Andrew Cronshaw (Topic 12TS447) 1988
A Midnight Clear/Gordon Giltrap (Modern Music Modem1006) 1987
Before Your Time/Simon Nicol (Woodworm WR010) 1987
White Light/The Bodhi-Beat Poets (Dead Man's Curve DMC011) 1987
All About Eve/All About Eve (Mercury 834 260-2) 1988/2
North & South/Gerry Rafferty (London LONLP55) 1988/4
Aqaba/June Tabor (Topic TSCD449) 1988
The Andrew Cronshaw CD/Andrew Cronshaw (Topic TSCD447) 1989
Scarlet and Other Stories/All Anout Eve (Mercury 838 965-2) 1989/10
Weave The Mirror/Beryl Marriott with Fairport Convention & Chris Leslie (Woodworm WECD016) 1991
Sway With Me/Judy Dunlop & Ashley Hutchings (Albino ALB007) 1991
Masque/The Mission (Vertigo 512 121-2) 1992
The Language Of Snakes/Andrew Cronshaw (Special Delivery SPDCD1050) 1993
A Trick of Memory/Martin Barre (Zyx Music ZYX 20282-2) 1994
The Guv'nor's Big Birthday Bash-Live In Concert/Ashley Hutchings (HTD CD39) 1995
Birthday Party/Dave Pegg & Friends (Woodworm WRCD027) 1998
The Dream Society/Roy Harper (Science Friction HUCD030) 1998
Telecasting Recast/Jerry Donahue (Telebender JDCD7004) 1998
The Complete Strawbs – Live At Chiswick House (Witchwood WCCD2001) 2000
Dreams Never Leave You/Bob Fox (Woodworm WRCD035) 2000
Hummingbird/Wakeman & Cousins (Wichwood Media WMCD2007) 2002
Hands Across the Pond/Richard Greene & Beryl Marriott (RGP 001) 2003
Dancing Days/Chris Leslie (Talking Elephant TECD058) 2003
Hedge Of Sound/P. J. Wright (Talking Elephant ) 2005
Fortune Never Sleeps/Rainbow Chasers (Talking Elephant TECD100) 2005/9
Alternative Route To All Destinations/The Durbervilles (Splid SPLIDCD007) 2007
Loshad' Belaya (White Horse)/Aquarium 2008
Ridiculous Bohemia/Tiny Tin Lady (Tiny Tin TT10208) 2008
All The Good Friends/Red Shoes (Cedarwood CEDAR14) 2012
Ei8ht/Nik Kershaw (Shorthouse SHORT CD003) 2012/8
Sirkel With Special Guest Ric Sanders (BAJ 171549) 19??

【参加グループ】
The Echoes (1970s early)
Stomu Yamash'ta's Red Buddha Theatre (1972)
Surrounding Silence (1970s mid)
Michael Garrick Band (1976)
Soft Machine (1976.9-1977.summer)
The Albion Band (1977.mid-1980) 
2nd Vision (1979-1985?)
English Air (1980s mid)
Fairport Convention (1985.9- )
Ric Sanders Group (2002-2003)